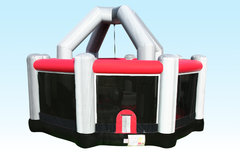 Wrecking Ball Interactive game
$269.00
Dimensions:
Outlets: 2
Monitors: 1
Please call to reserve this item.
Wrecking Ball Interactive Game -

ON ORDER NOT IN STOCK
Accomodates 4 players, stand on your pedestal and swing the wrecking ball towars your friends to knock them off their pedastal. This is a fantastic Interactive game for any event large or small. You can keep your guests active and involved with this wrecking ball game. Your guests love to watch and laugh as the players try o knock each other off their pedestal.
Set up area 30x30
Great for any age, ADULT AND TEEN APPROVED