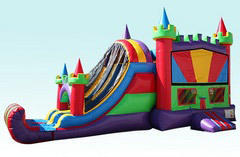 4n1 Colorful Water Combo Bounce House
$229.00
Dimensions:
Outlets: 1
Monitors: 1
4n1 Colorful Water Combo Bounce House
4n1 Colorful Water Combo Bounce House Rental | Big Lou's Bouncies
This Combo Bounce Bounce House Rental is vivid in color and can be theme neutral or themed with a banner. There is a gradual inflatable ramp that allows the kids to climb in this bounce house safely and protects their hand and feet from the ground.
The bounce house participants, once inside, will encounter a large bounce area surrounded by brightly colored netting for easy viewing. This combo bounce house includes a sporty basketball hoop, for those that want to casually shoot baskets or for that friendly competition amongst friends. The bounce area is covered by a solid shade cover that will keep the sun off of them while the bounce and will keep them from a light rain. Climb to the top of the slide on one of two climbing areas. Once at the top two bouncers can race each other down the dual lane Water Slide that splashes down into a pool. The water slide is covered with black mesh netting for saftey and to keep the vinyl nice and cool on those sunny days.
This unit can be used wet with a water slide and pool or it can be used dry with a bumper. One of our professional staff can interchange the bumper with apool on site. The Colroful combo bounce house has brightly colored netting on all four sides of the bounce area that provides a cool breeze and keeps the unit ventilated as well as provides easy viewing for the supervising adult. Once this bounce house is placed in the cart you can choose a theme if you like or leave it plain to accomodate any party. The set up area for this water slide bounce house combo is 37 feet in length x 20 feet in length x 17 feet in height.
The 4n1 Colroful Combo Bounce House is a great unit for any event or party.